The Euros – When two tribes go to more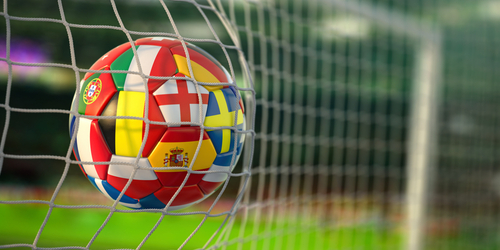 This article about Super-tribes was written in the run up to the 2020 European Championship played in 2021.
Football Super-tribes
On Friday, the 2020 UEFA European Football Championship kicks-off, one year later than planned. England, Scotland and Wales will all be hoping to bring the trophy 'home' in a few weeks time. After the recent collapse of the proposed European Superleague, it is great to have a European competition that any European country can win. 
International sport is notoriously difficult. Although each national team contains the country's best players, the squad rarely gets together and the combination of players changes for every tournament. As if that wasn't difficult enough, a national team is always made up of players from rival domestic teams.
Every international player brings a club loyalty along with them into camp. That serves them well most of the year, but not when they have to join forces for their country. When tribes can't align together, they are unable to form a Super-tribe. So, unless a sense of common purpose and winning behaviours can be quickly established, no team will get itself win ready.
The question 'Who has the best players?' is only part of the equation, because every team at the Euros has good players. That's an important factor, but so is how each country deals with the potential division caused by club loyalties. The countries that unite their players the fastest and the tightest will have the greatest chance of lifting the trophy.
Football Tribes v Super-tribes
So why is club v country an issue? It's because club loyalties can seriously impede an international team's chances of success. Domestic football teams are powerful modern tribes, with their own distinctive nicknames, colours, spiritual homes, songs and heritage. Every element of every football club provides a point of difference with every other club. If you play for Manchester United, then every player at Manchester City is an adversary, the fiercest of opponents. And so is every player at Liverpool and Leeds United too. They are deeply ingrained rivalries. These relationships are boarding on hostile. That's the way it is.
Does that matter when it comes to international teams? Yes and perhaps especially in England, because there are so many strong tribal rivalries. Each football club has its own distinct values, standards, aspirations and winning behaviours. They are ingrained through familiarity and daily repetition. They are deemed to be special. They are not easily given up, for a temporary new set. The influence of the domestic league clubs is huge. They have the strongest pull on a player's loyalty, because of their highly tribal nature and because they pay the player's wages.
International teams are Super-tribes. They bring together a squad of eligible players, from different club tribes everywhere across the World. The strength of a club side is tribalism. The strength of an international side has to be Super-tribalism. In football, that's the process of leaving behind your club mentality and finding a higher level of shared commitment, to your country. That transformation can make the difference between winning and losing.
Mutual Respect is just the start
The England squad is full of intense domestic rivalries. Mason Mount plays for Chelsea and one of his likely midfield partners Phil Foden plays for Manchester City. Those two clubs and players have just faced-off against each other in the European Champions League Final. They have been ferocious opponents all year. Now they have to find a way to quickly get past that. They have to become close teammates.
And there aren't just local club rivalries to contend with. There are international club rivalries too. Fellow England players Jadon Sancho and Jude Bellingham currently play for Borussia Dortmund in Germany and Keiron Trippier plays for Athletico Madrid in Spain. Whatever the differences, the whole squad has to find common ground.
Mutual respect is the foundation stone of a Super-tribe, but that's nowhere near enough on its own. A football Super-tribe needs a shared mission, with agreed values and winning behaviours. After that it's about setting the team's winning standards, scenario planning together and adopting every song, icon and symbol that means England football. And at the same time, it's about shelving every club equivalent. There's more to do still, but this combination will create a strong Super-tribe core.
Learning the lessons of the past
It appears that domestic club rivalries have undermined England's chances of winning previous Euros and World Cups. In 2017, Frank Lampard and Rio Ferdinand were interviewed by BT Sport about their time with England.
Frank won every domestic honour with Chelsea and 106 England caps. In his time, the power of club over country was too strong. Frank said "We didn't hate each other, but by nature we would sit on different tables." Rio Ferdinand also acknowledged the problem caused by a highly competitive club rivalry "We came through at West Ham together, did everything together like proper mates. I left and went to Leeds then Manchester United, Frank went to Chelsea and around that time our communication just disintegrated. It was down to, from my perspective, the obsession with winning. I didn't want to see Frank have an edge on me".
When players from different clubs deliberately sit apart from their domestic rivals, to avoid giving tactics away, there's absolutely no chance of creating a winning formula for their shared country. No wonder the Golden Generation never won gold.
Fortunately, it seems that this kind of partisan thinking might be a thing of the past. In the run up to this latest international competition, Harry Kane said "Everyone gets on really well and the group is great". That sounds like things have really moved on.
Unity over United
Unity can come from doing the little things together, as well as finding solidarity on a bigger issue. Eating together is a little thing that can have a big impact. There is also a bigger issue making an impact at this tournament. The unity that the England squad is showing on 'taking the knee' is a good indication of mutual respect and togetherness as a squad. Taking a collective decision will help to pull the squad even closer together. That sense of unity is good news for England.
Instead of worrying about giving away secrets to your domestic rivals, today's England teammates need to share anything and everything that can help them win the tournament. Their experience of playing for others clubs, under different coaches and in other leagues is all extremely valuable. For the duration of this tournament at least, a united England is more important than a United, or a City.
They also need to focus on England. Being on home turf brings a massive advantage. Just think of 1966 and Euro 1996. We always play well at home.
Every player can provide an insider's understanding and new insight to the Manager and to each other. An experience shared by one player is an experience gained by every other player. Sharing is tribal. Sharing between tribes is Super-tribal. Gareth Southgate needs all the insight he can get.
Country first, club second
In the men's game, domestic football clubs don't always help the national teams prepare for tournaments like the Euros, because they have hundred of millions of pounds invested in achieving their own goals. When it comes to international competitions, they have split loyalties. They want their players to play as little as possible, stay injury free, be happy to return to their club, play well and win the competition – in that order. There's little incentive to help the national sides that their players play for. That's a shame. Without more alignment on that, every England Manager has one hand tied behind his or her back.
Chelsea and Manchester City have got thirty-three players on international duty at these Euros and only seven of them are in the England squad. The players fortunate enough to represent their country will need to switch off their club loyalties and switch on their national ones. They need to have a single priority, to win the trophy, which is ironically the one that matters the least to their clubs.
The majority of Chelsea and Manchester City fans will share that same, single focus when England play. They can suspend their club fanaticism for a few weeks, so the players should be able to manage it too. The British Lions do it very successfully in rugby union. This comes from reversing every instinct to think 'club' and instead adopting a country first attitude. The players need to focus on three lions, rather than red devils, cockerels, liver birds or any other club emblem.
The competition will be focused
The other twenty-three players from Chelsea and Manchester City will also be adapting their ways of operating, from club to country, to embody their own country's values, standards, aspirations and winning behaviours. They will be offering their international coaches all the insight they can into England's strengths and weaknesses.
All twenty-four countries will be trying to become Super-tribes. As a result, the England players have to more than match the other twenty-three, off the field as well as on it. The England players need to share their knowledge, insight and national pride to give themselves the best chance of winning. They need to work through the failures of the past, work closely together, to move sideline their domestic tribes and transform themselves into a Super-tribe with a single, shared vision and mission.
It's coming home
Good luck to whichever team you support. If there's mutual respect between all the players and coaches throughout the tournament, then football will be the overall winner.
As to which team will win the Euros? For me, it will be the one with the greatest sense of Super-tribe; and that could well be England. With the final at Wembley, the home of football, there's every reason for England players and fans to dream of another famous win in football's spiritual home.
In the words of Frank Skinner and David Baddiel "Football's coming home."